Video converter for commissioning / analysis tool and remote control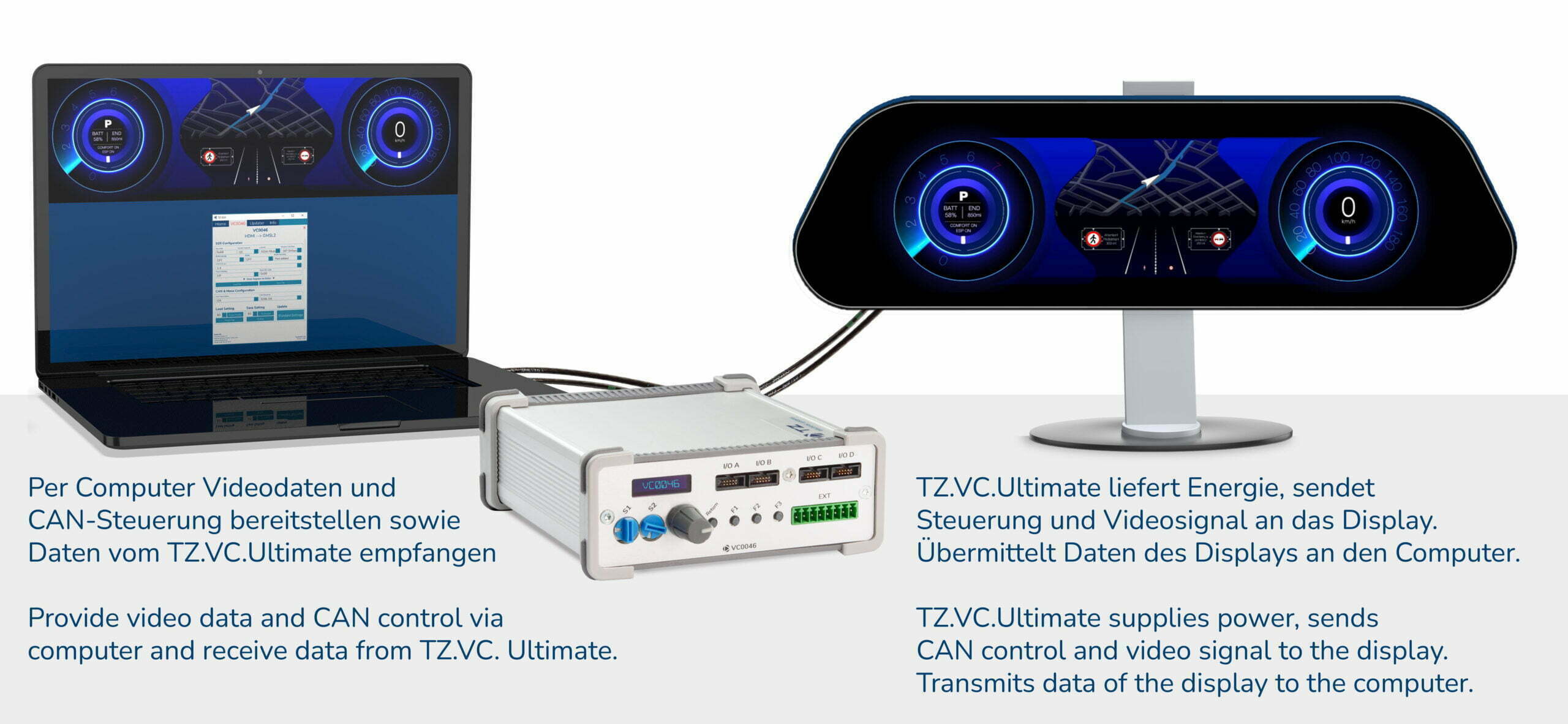 In the development of modern automotive video systems, individual components from a wide range of manufacturers are used. These global supply chains are prone to disruptions. Delivery bottlenecks, strikes, production stoppages or shortages of raw materials throw these tightly scheduled workflows out of balance. The result: an increased error rate and delays in the development schedule
To test the interaction of the complete system, all components must be present. Individual elements are not executable, cannot be tested. This is where TZ's Video Converters come into play. Thanks to our all-in-one converters, testing, analyzing, verification of individual video components such as display, head unit or touch functionality is no problem.
As the ultimate multi tools, they bring transparency to your data flows. Whereas previously completely self-contained components allowed no insight into their function, thanks to the converters from TZ Electronic Systems you can read out, check and verify all specifications by outputting them to a computer. Lengthy, costly troubleshooting is reduced to a minimum. Errors can be clearly defined and logged and communicated to the individual suppliers and manufacturers. Instead of trial and error, clear facts. This speeds up work processes. A clear advantage for you as an OEM, supplier or developer. Shorter development times – faster time to market, better control of production.
Preconfigured settings
automatically adapt your video source to all your automotive displays,
establish the necessary automotive video link to the display,
power your component and start the display through the appropriate CAN configuration,
expandable via XML configuration.
You do not need any specialized personnel!

Quick switching of the software configuration via practical rotary switch We can really address all possible connection variants in the automotive field, this is what our team stands for with its unique expertise. Put together your workflow of control, camera systems, displays, check the function or replace non-existent devices, it couldn't be easier.
We will not leave you alone in case of problems! Our service team of TZ Electronic Systems is ready to help you with words and deeds. We are there for you until what should run runs. TZ.VC.Ultimate, the best multi tool since the Swiss Army Knife!
Our converter has everyconnection for everyproject. Our mission is your tailor-made solution! Our mission is your tailor-made solution!
All-in-One – true plug and play for any automotive display


We customize our device to fit your required connections.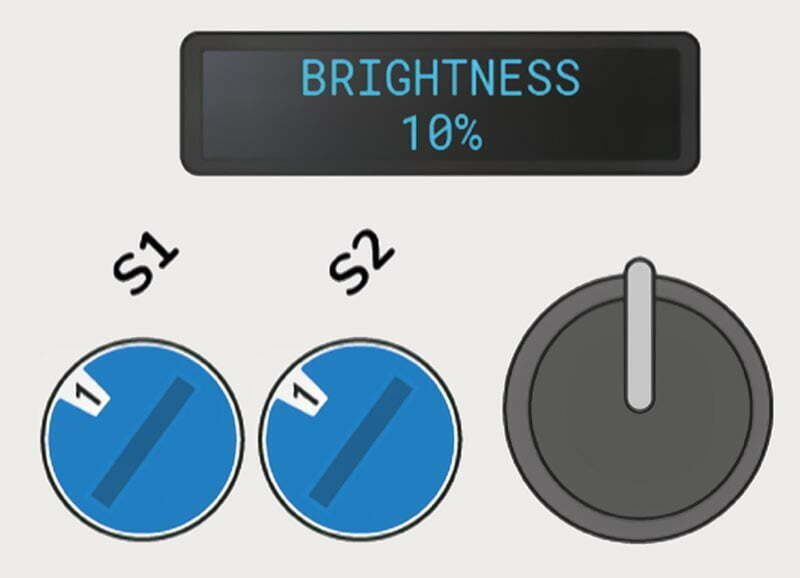 Quick switching of the configuration via practical rotary switch
Measurement – Calibration
Measurement – Calibration Exact color measurement of a display outside the vehicle using the TZ.VC.Ultimate and a measurement camera.
Use of the converter in a test with test persons. The behavior of the display during input can be shown here.
Representation of the display reactions to touch inputs in the test environment
Convinced? Choose your Video Converter
Maxim Integrated, DVI, Setting Switches, CAN playback
Built-in control channel Master, External access to serializer pins, HDMI, Maxim Integrated, Setting Switches, TZ GUI Support
2:1 Input Switch, HDMI, Maxim Integrated, Setting Switches
Maxim Integrated, HDMI 2.0, Setting Switches, TZ GUI Support, Built-in Control channel Master
I2C Passthrough, Built-in control channel Master, External access to serializer pins, HDMI 2.0, Maxim Integrated, RGMII, Setting Switches, TZ GUI Support, UART Passtrough
I2C Passthrough, Built-in control channel Master, External access to serializer pins, HDMI 2.0, Maxim Integrated, RGMII, Setting Switches, TZ GUI Support, UART Passthrough, CAN Playback, USB HID-Touch, Highly configurable
Texas Instrumentals, HDMI, Setting Switches, CAN playback
Dual-Link, CAN Playback, HDMI, Setting Switches, Texas Instruments
2:1 Input Switch, Built-in control channel Master, External Switch, HDMI 2.0, Maxim Integrated, Setting Switches, System enable pin, Touch, TZ GUI Support
2:1 Input Switch, Audio output, External Switch, HDMI 2.0, Maxim Integrated, Setting Switches, System enable pin, Touch, TZ GUI Support
I2C Passthrough, Built-in control channel Master, External access to serializer pins, HDMI 2.0, Maxim Integrated, RGMII, Setting Switches, TZ GUI Support, UART Passtrough
I2C Passthrough, Built-in control channel Master, External access to serializer pins, HDMI 2.0, Maxim Integrated, RGMII, Setting Switches, TZ GUI Support, UART Passthrough, CAN Playback, USB HID-Touch, Highly configurable
I2C Passthrough, Built-in control channel Master, External access to serializer pins, DP, Maxim Integrated, Setting Switches, TZ GUI Support, UART Passtrough