Our Signal Processing Units are the ultimate tool for converting video signals from the automotive world to standard PC video signals. They feature powerful processors and firmware as well as numerous interfaces that enable a wide range of applications. The primary application is the conversion and output of automotive video signals on an HDMI monitor as well as the provision and forwarding of video data via Ethernet.
Our Signal Processing Units are also ideal for testing and validating cameras, head units and ECUs (Electronic Control Units).
TZ Signal Processing Units are series-produced for the generally used GMSL and FPD-LINK technology standards and are available with a variety of connectors such as FAKRA or Rosenberger HSD. We will be pleased to realize other technologies and connectors individually for you on request.
As is the case with all our devices, "Plug & Play" applies: We can preconfigure the individual application for the Signal Processing Units, whereby up to 100 different configurations can be stored in the device. You can also create your own settings via the TZ GUI software.
Applications
Laboratory tests and measurements of parameters such as picture detail, color representation and picture information
Hardware and software development for HU, ECU or camera
Calibration of camera lenses
Verification of specifications according to the vehicle manufacturer
Environmental tests (resistance/function at heat shock, cold, UV radiation, etc.)
Hardware-in-the-loop tests (long-term tests)
End-of-line tests
Test and trial runs
TZ electronic systems offers a wide range of Signal Processing Units as standard. If your combination of requirements is not covered, then we are happy to implement a solution which meets your specific needs. Request a concrete quote in our online shop, download our complete product overview or contact our technical customer service department to get non-binding advice regarding our extensive test solutions.
Our Signal Processing Units provide a powerful way of converting video from any source used in the vehicle to standard video formats and make it available via HDMI and Ethernet. At the same time, they have many practical additional functions and numerous connection options for further test tools.
RAW Conversion
De-bayering (demosaicing) of the RAW image data into an RGB image is performed directly in the signal processing unit. Other color spaces can also be configured as an option.
Scaling and Warping
The powerful processor allows upscaling and downscaling of the automotive video links to all standard video resolutions. Image warping, e.g. for head-up displays, is also possible.
Video Data Streaming
The video data can be streamed in compressed form to the network or a cloud via the Ethernet interface and made available worldwide (e.g. for remote testing).
Power over Coax
Cameras connected directly to the signal processing unit can be powered via the coaxial cable.
Settings Selector
A rotary switch can be used to switch between different configurations for different components. Up to 100 customer-specific configurations can be stored and updated or replaced with new ones as required.
Remote Control
Remote switching of the settings is also possible via the USB port, e.g. for automated end-of-line tests with different components.
Control Channel Master
Registry entries can also be read and set during operation via the built-in USB Control Channel Master. As a result, no additional tools are required for this task.
Camera Initialization
The complete initialization (serializer & imager) for a camera can be stored in the internal memory in one setting. This allows direct plug & play – even for cameras without an ISP (Integrated Signal Processor).
Color Spaces
Our frame grabbers can process all standard color spaces, so it makes no difference whether the connected camera is an RGB, YUV or RAW camera.
TZ GUI Software
Our TZ GUI, a powerful and user-friendly software which allows the easy and fast configuration of new components and test tasks, is available for all our current products. As an alternative, we will also be pleased to create new configurations for you.
Status LEDs
Status LEDs for the most important functions indicate the respective operating status and allow quick identification of possible error sources.
Extensive Interfaces
Additional external sockets can be used to connect further tools and test devices, e.g. to test the touch functionality.
SPU0061
Technology
Input & Output Connector
Video Out Connector
Features
DSC Coding, External access to DES pins, HDMI 2.0, I2C Passthrough, Maxim Integrated, Power over COAX, Remote Control, RGMII, Scaleable output stream, Setting Switches, TZ GUI Support, UART Passtrough
SPU0070
Technology
Input & Output Connector
Video Out Connector
Features
I2C Passthrough, Ethernet Streaming, External access to DES pins, HDMI 2.0, Maxim Integrated, Power over COAX, Remote Control, Scaleable output stream, Setting Switches, TZ GUI Support, UART Passtrough
SPU0080
Technology
Input & Output Connector
Video Out Connector
Features
Maxim Integrated, HDMI, Remote Control, Scalable output stream, Setting Switches, TZ GUI Support, External access to DES pins, I2C Passthrough, UART Passthrough, Power over Coax
All our test devices are supplied pre-configured and ready for use including all components necessary for operation, such as power supply, cables and plugs, etc.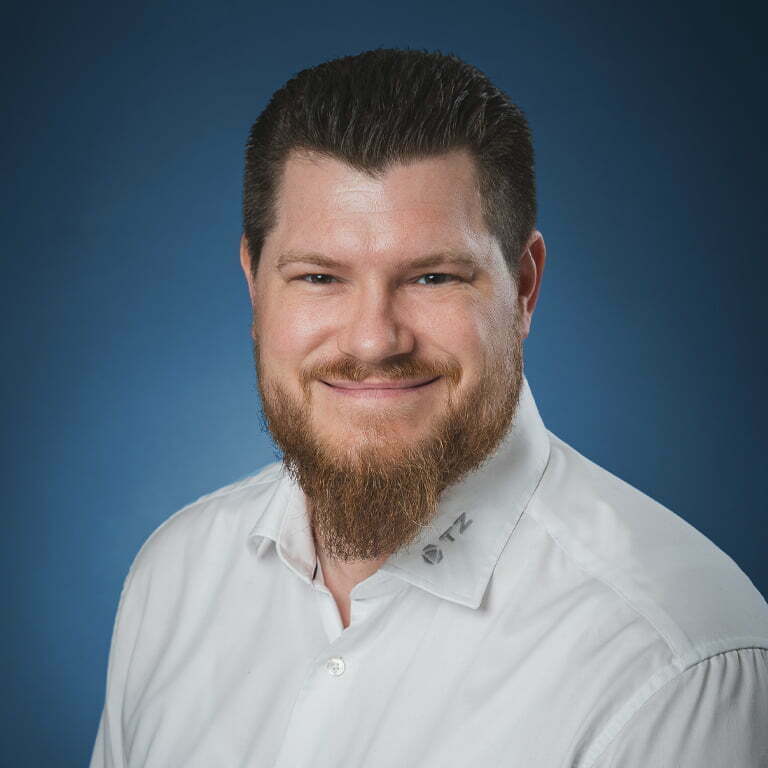 Alexander Pluta

Technical support
B.Eng. Alexander Pluta has worked in technical support at TZ Electronic Systems since 2019.
After studying electrical engineering / information technology at Pforzheim University of Applied Sciences, he gained experience in hardware development at various companies.
He started at TZ Electronic Systems in 2018 as a hardware and software developer.
Nowadays, he helps our customers with all enquiries, carries out demonstrations online and on site, and likes to help with handling problems.
Please contact us – our sales team will be happy to support you with your project